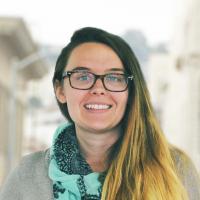 Senior UX Designer
//
Hook 42
An award-winning designer, I bring 10+ years of experience collaborating and working in agency environments with me. My primary focus is on user experience design, leveraging strong research, front-end development, digital accessibility, and aesthetics to create experiences that are more than looks. Purpose-driven decision-making and collaboration are the keys to successful design practices. 
I taught myself to code when I thought it was cool to make custom Myspace layouts, and it's been part of me and my design process ever since. Talk about flashbacks! Let's just say the web inspector is my best friend. My coding background has instilled a more functional perspective to my design approach, allowing me to bridge the development gap with aesthetics. This has helped forge collaborative environments for design and development to build amazing products.
Currently, I work as a Senior UX Designer at Hook 42 doing all things branding, design, social media, marketing, and content creation.
When I'm not sitting behind the computer, you'll find me on the beach with my dogs, camping, or road-tripping the U.S.A. 
Fun Facts About Me:
I live in Ocean City, MD
I have a twin brother and no, I can't hear his thoughts
I enjoy scenic outdoor bike rides
I did a hand-lettering workshop with Ken Barber of House Industries that will be with me as long as I live
My favorite TV show of all time is LOST
PDF of "Can't We All Just Get Along? Design & Development Collaboration" can be found here.